Vantage Cleans Your Pool So You Don't Have To!



Swim In A Healthier, Cleaner, Warmer Pool!

Now, enjoy the beauty and lifestyle you always wanted in a backyard fiberglass pool! Get the combined benefits of complete water circulation and thorough pool cleaning in one system. VANTAGE'S patented "water curtain" or collection zone makes easy and automatic cleaning a reality!

With VANTAGE PLUS, automatically clean steps, benches, swimouts and even spas ... easily and efficiently with additional rotating nozzles

Heat Savings

The VANTAGE System turns your pool into a passive, solar-heated pool for extended swimming season enjoyment and energy savings.





>> VANTAGE COMPARISON
>> VANTAGE MANUAL
>> VANTAGE FLYER
>> ALL INCLUSIVE WARRANTY
For Pools With Conventional Heaters, VANTAGE Can Save Up To 50% In Heating Costs!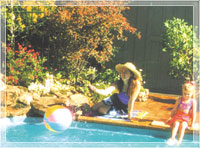 Chemical Savings
The VANTAGE system circulates chemically treated, filtered pool water through patented pop-up nozzles located in the floor of the pool. Unlike conventional systems, the VANTAGE system's bottom to top circulation penetrates all layers of your pool water. Result? Dramatic savings on chemical costs and a healthier, cleaner pool!

An ordinary pool's water is not circulated efficiently, promoting non-active areas where algae develops requiring more chemicals. The surface area retains heat ... causing rapid evaporation that leaves uncomfortable cold spots throughout the pool.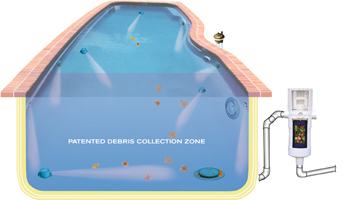 Paramount's Debris Containment Solution is just that, a solution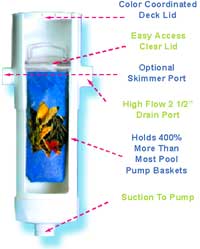 Minimize Maintenance, Maximize Fun!

When dirt, sand, leaves, and debris fall into your swimming pool, they usually end up sinking to the bottom. The Paramount Debris Containment Canister provides a convenient place to collect debris for easy removal, right from the deck of the pool! With a capacity 400% larger than your average pump basket, you can dispose of the contained debris easier and less often.

Conventional pools accumulate debris quickly. Pools equipped with the Paramount Canister are cleaner pools with debris held out of sight and ready for easy disposal. The Paramount Canister connects to the suction side of the pump, using the power of the pump without robbing performance and allowing your pool builder to install a smaller, more economical pump.

Vantage is only available through Paramount Authorized Builders. To find a builder or service company near you, please click the Find A Builder link on the top right of this page.

If you are a pool builder and would like more information, please notify your Paramount Regional Sales Representative or contact Customer Service via phone at 1.800.621.5886 or e-mail (paramount@1paramount.com).

U.S. Patent numbers
7,178,179 D,532,684 D,531,888 7,089,607 6,810,537 6,601,244 6,393,629 6,367,098 6,360,767 6,314,999 6,311,728 6,301,723 5,265,631 5,251,343 5,135,579 4,939,797 4,592,379 4,114,206
Canada Patent number
2,028,766
Other U.S. Patents Pending