THE DISAPPEARING DRAIN IS HERE

Build a beautiful pool with a drain that matches any pool finish. Enjoy the beauty and the performance of the 20" unblockable Drain. The Superflow 360 Drain "disappears" and blends into the pool floor. Apply the same plaster, aggregate or tile to the top of the drain cover for a perfect match every time.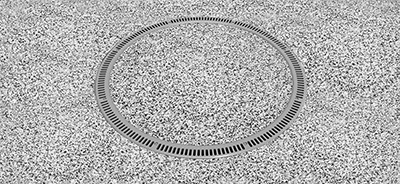 Features to Enhance the Beauty of Your Pool
Beautifully blends into the pool floor
Designed with Pebble Top technology that adheres the same plaster, aggregate or tile being applied to your pool, directly to the top of the Drain Cover so that it virtually disappears into your pool floor
Flush with floor, no pool cleaner hang ups
20" round unblockable drain (no second point of suction required)
Please note: The Superflow 360 drain is not a replacement for Paramount's MDX R3 Debris Removing Drain for pools that include a Paramount In-Floor Cleaning and Circulation System, and does not feature the 99% Cleaning Guarantee from Paramount. The Superflow 360 drain is offered as an alternative to conventional single and multiple main drain installations for aesthetic reasons and/or when a higher flow rate than other unblockable drains is desirable.
Performance & Specifications
Outstanding flow rate for Superflow - 384 GPM
VGB, ANSI/APSP 16-2001 and NSF/ANSI 50-2009a Compliant
Perfect for commercial and residential use
Patent #'s 6,209,586 / 6,340,035 / 6,557,588 and other patents pending
Proudly made in the USA
Available in 4 colors

White, Light Gray, Gray & Black

To find a builder or service company near you, please click the Find A Builder link on the top right of this page.
If you are a pool builder and would like more information please notify your Paramount Regional Sales Representative or contact Customer Service via phone at 1.800.621.5886 or e-mail (paramount@1paramount.com).