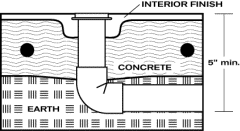 NOTICE: RetroJet requires the PVC piping to be a minimum of 5" in depth Be sure to remove the old nozzle and check for depth before purchasing.
*Some A&A QuikClean® step and bench nozzle installations used PVC piping only 1" in diameter. RetroJet will not fit these installations.

RetroJets are available through Paramount dealers, Distribution (to the trade only) and select service companies and retailers. To find a builder or service company near you, please click the Find A Builder link on the top right of this page.
If you are a pool builder and would like more information, please notify your Paramount Regional Sales Representative or contact Customer Service via phone at 1.800.621.5886 or e-mail (
paramount@1paramount.com
).
US and Foreign patents pending, click here
Caretaker 99 is a registered trademark of Caretaker.
QuikClean is a registered trademark of A&A Manufacturing and are not affiliated with Paramount.