INTRODUCING AN UNRIVALED CONCEPT IN CONCRETE SPA TECHNOLOGY

For decades, concrete spa owners have had to settle for only the most basic therapeutic jet options and limited seating comfort. Now Paramount JetPaks have changed that forever. Paramount JetPaks are essentially removable jetted seat backs that are engineered to deliver what you want; therapy options and comfort for concrete spas. These interchangeable JetPaks deliver some of the most advanced spa fittings that until now were only available in portable spas. This cutting edge technology gives you peace of mind to enjoy the ultimate reason for purchasing a spa... deserved rest and relaxation.

>> JETPAKS BROCHURE
>> JETPAKS POWERPOINT (4MB)
Paramount JetPaks Benefits:

hydro-therapy
incredible power
maximum versatility
interchangeable

easy to install
unsurpassed comfort
fully upgradeable


Paramount JetPaks are easy to install in concrete spas and even easier to interchange. Using a screwdriver, JetPaks can be quickly and easily removed and interchanged to create a spa that perfectly suits your needs. Finally, because JetPaks are interchangeable, they are also upgradeable. This means your spa will never become outdated, as you can upgrade to new JetPaks in the future.




OSCILLATOR JETPAK



CLUSTER SPRAYJETPAK



SPINAL'SSAGE JETPAK


The Oscillator is the original JetPak. Exclusive Vera'ssage jets oscillate in an up-and-down pattern to create an experience that mimics the sensation of four hands delivering a deep-tissue massage.

The ClusterSpray features a delightful arrangement of jets for a soft, yet powerful massage that is incredibly soothing for the entire back. This JetPak is ideal for all seats in any design.

Designed for complete wellness of the spinal region. Adjustable jets provide a broad range of intensity to offer targeted therapy to the delicate spinal muscles and surrounding tissues.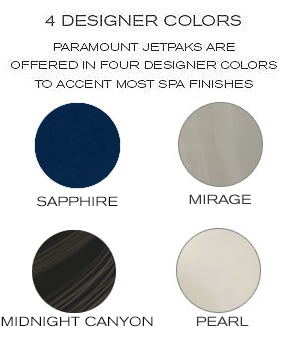 JetPaks are only available through Paramount Authorized Builders. To find a builder or service company near you, please click the Find A Builder link on the top right of this page.

If you are a pool builder and would like more information, please notify your Paramount Regional Sales Representative or contact Customer Service via phone at 1.800.621.5886 or e-mail (paramount@1paramount.com).


U.S. Patent numbers
5,754,989 5,987,663 6,000,073 6,092,246 6,256,805 6,543,067
Australia Patent number
737,335
New Zealand Patent number
334,093
Canada Patent number
2,260,237
Other U.S. and Foreign Patents Pending