The Debris Containment Canister has several times the capacity of standard filter pump baskets and keeps the heavy debris from interfering with the operation of your pool pump and filtration system. This protects your pump from becoming overloaded and increases the time between filter cleanings saving you energy, money and time.

A Paramount In-floor System combined with a MDXR3 or Buzztop Channel drain and a Debris Containment Canister provides the ultimate in low maintenance pool life so you can spend more of your free time relaxing and enjoying a clean pool.

Features and benefits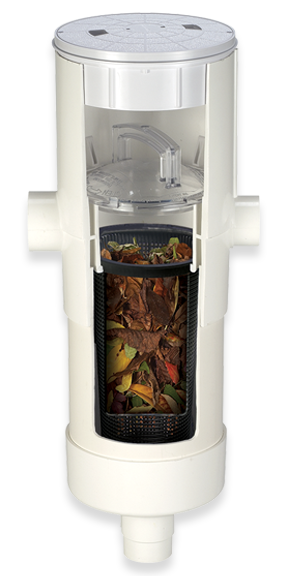 Located pool side for convenient access providing quick and easy debris removal


Easy to remove twist release lid


Large capacity basket holds 300% more debris than most pump baskets


Pre-filters large debris to keep the circulation pump free and clear of debris that could restrict water flow


Tank constructed of heavy duty PVC


2" suction cleaner port
DECK LID AVAILABLE IN 3 DESIGNER COLORS


ADDITIONAL BENEFITS
ENHANCES IN-FLOOR CLEANING SYSTEMS
Efficiently contains any large debris for easy deck-side removal.
ENHANCES PRESSURE SIDE CLEANERS
Contains the large debris allowing the cleaner to operate for longer cycles.
ENHANCES SUCTION CLEANERS
*Debris can be delivered directly to the canister by Suction cleaners allowing these cleaners to operate more efficiently for longer cleaning cycles. (*When combined with a Paramount Debris Removal Drain.)
Optional Features
IN-CANISTER MVFUSE SVRS ( OPTIONAL )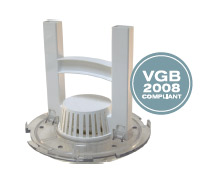 By adding MVFUSE to your existing Paramount canister it not only brings peace of mind, but is a quick and affordable upgrade making your pool a safer environment for your family. MVFUSE is the only listed magnetic safety vacuum relief system (SVRS). It takes pool & spa safety to the next level with an additional layer of anti-entrapment protection, giving you the peace of mind that your loved ones are safer.
Provides an additional layer of safety
Easy to retrofit to existing canister
Peace of mind for you
Affordable upgrade



To find a builder or service company near you, please click below. To find a builder or service company near you, please click the Find A Builder link on the top right of this page. *The Debris Containment Canister is available with all types of inground pools. (Concrete, Vinyl, & Fiberglass)

If you are a pool builder and would like more information, please notify your Paramount Regional Sales Representative or contact Customer Service via phone at 1.800.621.5886 or e-mail (paramount@1paramount.com).

US and Foreign patents and patents pending click here http://www.1paramount.com/about/patents.php