Keith Mitchell
Creative Director

Keith spent the majority of his career in the Chicago market, creating award-winning advertising campaigns for clients like NutraSweet, Kellogg's, Sears and others. Getting thrown into the deep end early on with everything from TV production for the World Series and new car launches from Oldsmobile to Corporate repositioning with Pillsbury. After 22 years in the Midwest, Keith relocated to Arizona with his family, back to his roots, having grown up here and was born in Yuma, AZ.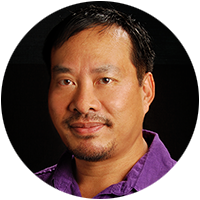 Sam Wong
Senior Graphic Designer

Sam loved art since ever since he was a snot nosed kid and still enjoys creating art to this day. He attended Arizona State University (Go Devils) and worked for advertising agencies, in-house design departments for the grocery industry, auto industry and pool industry, magazine publishers and freelanced for local and national non-profit organizations. Quote "Paying attention to the small details will make the bigger picture shine."